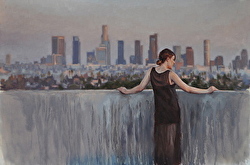 My 2nd Feature Show with the amazing 27 year veteran gallery, La Luz de Jesus Gallery, Los Angeles. Opening Friday July 5th 8-11pm - July 28th.
This will be an exhibition featuring around 13 brand new works. The focus of this show will be the human figure, specifically the amazing aspects, intricacies and beauty of the female figure in and around the wonderful city of Los Angeles, where I currently reside.
This show has been over two years in the making and will present the most accomplished body of work to date.
For more info contact info@derekharrisonart.com or info@laluzdejesus.com
-I will be sending out a newsletter (which you can subscribe to on this website) with exclusive collector previews, info, etc.
Comment on or Share this Article →